Translucent Lumonyx Honeycomb
Strong backlit onyx and alabaster
Have a backlit application that needs a strong, lightweight and rigid onyx or alabaster material? Lumonyx Honeycomb is the answer. It's ideal for backlit bar tops, tables, sculptures, walls and other surfaces subject to impact. Panels are made with a Lumonyx face bonded to a super strong, rigid and lightweight honeycomb backing. The unique laminate structure allows light to pass through without shadows. The polymer honeycomb core supports the Lumonyx evenly and minimizes the need for frames. This allows designers the freedom to create relatively large self supporting and completely translucent shapes. Possibilities include illuminated bartops, domes, columns, beams, panels, signage, stages, platforms, feature walls and more.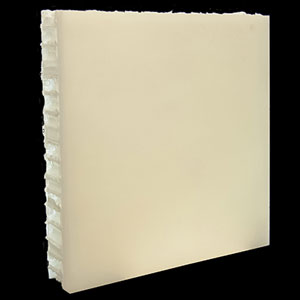 Benefits of Lumonyx Honeycomb
Durable structural shapes without adding excess weight
Shadow free illumination on backlit features
Free design assistance to help you create custom shapes
Simple and shadow free lighting
Whether you need more information about Lumonyx Honeycomb or want to learn more about how Lumonyx features will create an unforgettable look and feel for your project, we're here to help . Our friendly team of experts will provide a no-cost, no-hassle consultation.